Les dossiers d'actualité de Meditationfrance
Interview du musicien talentueux Prem Joshua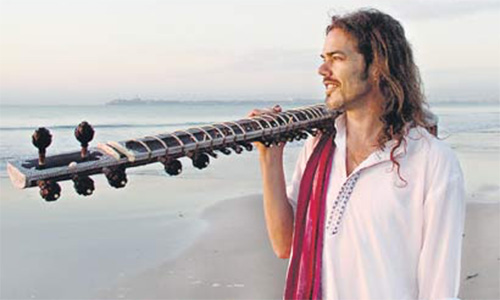 en exclusivité pour MF réalisé il y a une semaine par un ami du site et que nous laissons dans la langue originale en anglais…
Question: Your music is spreading all over the world, now also in France, many of your albums are sold and not so long ago you were also in a MTV live broadcast!!! When are you coming to France?
Joshua: I am playing all over the world now, especially in India it is really going very well. We also play all over Europe, the US, Israel, Malaysia and Singapore. France is a little slow with opening up to my music although it is Buddha Bar and Nirvana Lounge from Paris that took on my music for their compilations. We would like to come to France but someone has to invite us for a concert there! We are ready! We are even crossing France every year as we are playing many times in Ibiza and mainland Spain.
We also had a live concert on MTV in Bombay last year and it was shown all over Asia several times. It was actually a lot of fun to play on MTV which usually never features any world music bands, so we were surprised they invited us not just for a video clip but even to do a live performance.
Question: Your music is something new...it seems to me a bridge between the Indian and Oriental music and the Western music, from the groove, to some trance ambient music. Where did you get this fusion from?
Joshua: Yes, our music IS a bridge between East and West, between the different cultures, between the ancient and the contemporary. This fusion of sounds happens naturally to me as I have lived in India altogether for more than 8 years. And then I travel all over the world, so I am a global citizen, no wonder my music sounds like that! It is world music! But the stupid politicians and religious leaders want to tell you that you are a Christian, Muslim, Hindu, that we are right and the others are wrong. Hate and power rules. World music unites! It creates bridges between the cultures and explores a totally new musical space and a totally new way of people living together in peace! In my band there is an Indian, a Persian, a Singaporean, an Italian, a German. We are having so much fun, there is no problem that we are coming from different backgrounds, on the contrary -- that's the fun! You can feel in our music that we are having fun!
Question: What is the next project for 2006?
Joshua: I am working on 3 new CD Projects at the moment: number one is my new album called "Taranga". It will be released in April. Second release is a very danceable album together with keyboardist/loop master Chintan. Third will be a follow-up album to "Water Down the Ganges" together with Indian multi-instrumentalist Manish Vyas.
I am currently touring India with many concerts. Our Europe Tour will start in Mai. For more information on my music, band, CDs and concerts, go to: www.premjoshua.com
Vous pouvez trouver les Cds de Prem Joshua au Souffle d'or et les commander en ligne : www.souffledor.fr